CLICK HERE TO APPLY FOR A SECOND MORTGAGE, EQUITY LOAN OR REFINANCE



If you have good credit and a job then apply with your bank, if you dont have good credit apply above, we have the highest approval rate in the industry no credit no job no problem!

We highly reccomend you visit the sites below to educate yourself so that you and the banks are on equal footing.

Mortgage - The first mortgage someone takes on a house usually with a down payment.
Second Mortgage - A loan based on the equity in your property example you owe 100 on your house but its worth 200 you have 100 equity and that can be borrowed apon.
Refinanace - A refinance is when you pay out the first mortgage and start a second mortgage, when your mortgage comes up for renewal you are refinancing it.

Unfortunatly not everyone knows that private lenders exist, thousands or canadians are loosing their hard earned equity to banks that refuse to refinanace them or give them a second mortgage.
That is where we come in, we deal with private lenders that lend to anyone regardless of credit rating or employment status, if we can't finanace you no one can.
Again we highly reccomend you try traditional lenders prior to applying with us, as the interest rate will be lower, however if you are currently unemployed or have bad credit chances are they will not approve you. The good thing about dealing with a private lender like us is we can give you as much money as you need to get your bad debts paid,and improve your credit so you can then reapply and get approved at one of the traditional lenders like your bank or lenders listed below.

We reccomend when applying for a mortgage renewal or second mortgage, you calculate how much you owe to all your other creditors as credit cards car loans and other forms of financing are at a much higher interest rate then your mortgage. If you can pay off all your high interest debts when your mortgage comes up for renewal or you take out a second mortgage you could be saving thousands in interest payments, and lower your monthly payments dramatically.

Example john has a home that he owes 250000 dollars on, the value of the home is 400000 due to the payments he made, upgrades to the house,
and appreciation in the housing market (almost all juristictions in canada have had there housing values increase)

John also has 15000 in credit cards on which he pays 1000 a month, 30000 car loans which he pays 500 a month, and other small overdrafts
and lines of credit totaling 5000 that he pays 100 a month.

So when john refinanaces his mortgage when it comes up for renewal he asks for a mortgage in the amount of 300000 dollars, with the extra $50000 he receives,
he pays off his car loan his credit cards and overdrafts and lines of credit. Because interest rates now are much lower then they where when john got his first mortgage
he still pays less on his mortgage then he did before he refinanced and also has no more credit card bills to pay his car is paid in full and all his small overdrafts and lines of credit
are paid off. John was paying 3000 for is mortgage and 1600 for his other debts each month totaling 4600, because mortgage rates have gone down after he refinanced his mortgage
rate was only 2500 and the 1600 he was paying for all his other debts is already paid off. This means john has an extra 2100 dollars a month and his credit score has drasticlly improved
because all his debts have been paid in full.

The previous example only works if john is still employed and his credit is still in good standing if you are in a position where you are not employed and you have some bad debts the example
below will show you how to get to the same point john is, requiring a few more steps.

Jane owns her house she owes 300000 on it and its value is 400000 she also has credit card debts totaling 15000 and a car loan totaing 25000, as well as lines of credit and overdrafts totaling 5000,
Janes mortgage comes up for renewal but because she is currently unemployed the banks refuse to refinanace the loan. (I have worked for the major banks most of my proffessional career, they
want you to mess up your credit or loose your job because when you do they can steal your house and your equity, the purposs of this website is to show you how to stop that from happening)
Jane denied by the banks contacts us and gets a refinanace from us for 360000 dollars, she pays off all her debts including her car loan credit cards and overdrafs and keeps the extra 10
as a cushion untill she finds a better job, by paying off all her debts she is saving 2000 a month in creditor payments, and has increased her credit score to an A showing all debts paid off in full,
and over 20000 available credit. 2 months later she finds another job and goes back to the bank to refinanace the loan back to the bank, seeing that she now has perfect credit and is gainfully employed the bank gives her the refinanace and she is able to pay off the private lenders. If jane didnt know about the private lenders she would have lost her house and all the equity in it, she would have had her car repossed and her credit score would have dropped dramatically as she defaults on all her loans. At this point her only option would be credit councilling or bankruptcy, and the banks would have taken her house and all the equity in it.

We do not suggest you use private lenders if you can be approved by the bank, private lenders act like a bandaid untill your situation improves allowing you to keep your property your equity,
pay off all your high interest debts fix your credit and give you enough rainy day cash to ensure you can make it through till your situation improves.
To apply for a mortgage, refinanace or equity loan through a private lender click here to be sent to our application page, once application is received approval takes
24 hours and finanacing takes 48 hours. We have the highest approval rates in the industry contact us today, and we can have you approved tommorow and funded the day after! No job, no credit no problem!

In some cases you will get a better deal going to the bank you do your regular banking with,
Unless you have perfect credit chances are the bank you have history with will give you the best rate,
This is not always true however therefore we recommend checking out all the big bank mortgage sites listed below.

Td Bank Mortgage Page Click to visit
To qualify for a mortgage, an applicant's gross annual income, credit history, and assets and liabilities (past or present) all influence our final credit decision.
To determine the amount of mortgage you may qualify for, try our
How Much Can I Afford Calculator
to help you determine the amount of mortgage suitable to your financial situation.
Another tool to help you review your mortgage options is our
My Mortgage Selector Tool
, which recommends what product will best suit your needs.
To apply for a mortgage pre-approval today please visit your local TD Canada Trust
branch
or contact a
Mobile Mortgage Specialist
.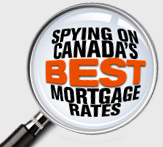 compare the best rates
get started now!
- See more at: https://www.ratespy.com/#sthash.9mA88CKz.dpuf

Royal Bank of Canada Mortgage Page Click to visit
Start Your Online Mortgage Pre-Approval
Lock your rate and know exactly how much home you can afford. Start your pre-approval online and an RBC® mortgage specialist will be in touch within 24 hours to help you complete your pre-approval application.
Start Your Pre-Approval

Scotiabank Mortgage Page Click to Visit

Your first step is speaking with a
Scotiabank Advisor
to talk about your goals, and find the mortgage that's right for you.

Call us and let us help.

1-800-472-6842
National Bank of Canada Mortgage Page
Type of application :
Pre-approval (Ideal when shopping around for a home)
Mortgage loan (Ideal if your offer has been accepted)
Transfer or renewal (Ideal if you wish to transfer your loan from another financial institution to National Bank)
Do you need to renew a National Bank loan?

Pre-approval


Eligibility criteria

Must be of full age
Must have employment or rental income


What you need to have on hand

Your contact details
Certain financial information (income, loans and commitments)


After applying

You'll receive a confirmation e-mail
A National Bank advisor will contact you within two business days
Rest assured - a meeting will be held at a convenient time and place to complete your application.


* Are you a National Bank client?

Yes
No

* Is this a joint application?

Yes, a joint application with:

No

* Have you declared bankruptcy in the past seven years?

Yes, I was discharged on:

(ddmmyyyy)

No
HSBC Bank of Canada Mortgage Page
Start your application for an HSBC Traditional (Residential) Mortgage securely online, anytime
Apply
Call toll-free
1-866-609-4722†
Or visit a branch
CIBC Canadian Imperial Bank of Canada Mortgage Page
Apply by phone
1-800-669-5921
(all time Eastern)
Mortgage Pre-Approval
Monday to Friday between 9:00 a.m. and 8:30 p.m.
Mortgage Application
Monday to Friday between 8:00 a.m. and 9:00 p.m.
Saturday between 9:00 a.m. and 5:00 p.m.

Bank of Montreal Mortgage Page
Start your pre-approval today
Mortgage Specialist Locator
The Mortgage Group - not one of the 5 big banks however they have low rates and similar acceptance requirments
TMG MORTGAGE APPLICATION
First National is Canada's largest non-bank mortgage lender
, offering both
commercial mortgages
and
residential mortgage
solutions.
If you have questions about refinancing, please contact us toll-free at 1.888.670.2111 or send an email to a


Mortgage Specialist



Compare Mortgage Rates to Save Tens of Thousands of Dollars!
Buying a home is the most significant financial decision most Canadians will make. That's why it's so important to choose a mortgage that suits your unique needs and minimizes the amount of interest you pay. No matter where you live, it's fast and easy to find the lowest and best mortgage rates available with LowestRates.ca. We work with the top banks and brokers across the country to provide you with the most competitive mortgage offers in Canada. The best part is it's a free, no obligation service.
How can comparing mortgage rates save me money?
Banks rarely offer their best rates up front, and they usually make customers negotiate rate discounts over the phone or in person. With LowestRates.ca, you'll be able to compare the best mortgage rates from over 30 banks and brokers in just seconds. Our quotes are tailored to whatever area you live in, so that you'll always know you're getting the best deal, whether you're in Ontario, Alberta, British Columbia, Quebec, Nova Scotia or anywhere in between!
Comparison sites force brokers and lenders to compete for your business, meaning you'll see their lowest rates right away, without any hassle or negotiation.
Should I get a mortgage from a broker or a bank?
Banks issue mortgages directly to the customer, while brokers work on their clients' behalf to find the best deal possible from a range of lenders.
It's no surprise that Canadians are increasingly using mortgage brokers to get the lowest rates on their home loan. Brokers have access to a variety of lenders, and they often get more competitive rates than regular consumers because of the special relationships they have with the institutions they do business with. Because brokers process a lot of mortgages, they can pass the volume discounts they receive on to borrowers like you!
Taking a mortgage with your local bank does allow you to consolidate all of your financial services (bank account, credit card, insurance, mortgage, etc) with one institution. It's a small but not insignificant advantage banks enjoy over brokers. However, brokers have access to mortgage offers from most of Canada's major banks, so you can still find a great mortgage rate from a major bank through a mortgage broker.
Recent surveys show that brokers are particularly popular with young Canadians and first-time home buyers. The latest Canadian Association of Accredited Mortgage Professionals (CAAMP) report shows brokers processing over a third of all mortgages in these two categories: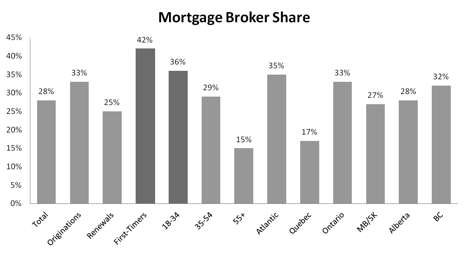 Source: Annual State of the Residential Mortgage Market in Canada, CAAMP November 2013
Do mortgage rates vary by province?
They can. Some provinces have greater competition among lenders, which tends to result in slightly lower mortgage rates.
Should I select a variable or fixed rate mortgage?
It depends on your tolerance for interest rate risk and your financial profile.
Fixed rate mortgages offer the most security because your payments will stay the same for the duration of the mortgage term, while variable rates fluctuate with market conditions, so your mortgage payments can go up or down, depending on the interest rate environment at the time. If you want the lowest mortgage rates possible, however, then variable rates are usually better because they tend to be lower than fixed rates, especially over the long term.
Fixed rates, which remain near historic lows, have been a popular choice among Canadians recently.
Percentages of Mortgages by Type, For New Purchase Mortgages and Recent Renewals:
| | | | |
| --- | --- | --- | --- |
| Mortgage Type | Purchase During 2013 | Renewal or Refinance During 2013 | All Mortgages |
| Fixed-rate | 82% | 66% | 66% |
| Variable or Adjustable Rate | 9% | 24% | 26% |
| Combination | 9% | 10% | 8% |
| All Types | 100% | 100% | 100% |
Source: Annual State of the Residential Mortgage Market in Canada, November 2013
What's the difference between an open mortgage and a closed mortgage?
Open mortgages can be paid off at any time without penalty, while closed mortgages essentially lock you into the loan for the duration of the term. With a closed mortgage, you'll most likely get a lower interest rate than you would on a comparable open mortgage. If you must pay off a closed mortgage, you'll still be able to do so but will have to pay a steep "penalty" for exiting the loan ahead of schedule.
How is a mortgage term different from an amortization period?
A mortgage term is the amount of time the conditions of your mortgage contract (interest rate, payment schedule, etc) remain in effect. At the end of the term you'll need to renew your mortgage. Think of the term as a contract that is renegotiated with new conditions just before it expires. In Canada, the majority of mortgage terms are five years, as you can see from a CAAMP survey below:
Canadian Mortgages By Term:
Length of Morgage Term
Age of Borrower
Term
18-34
35-54
55+
All ages
1 year or less
5%
7%
6%
6%
1-2 years
11%
4%
5%
7%
2-3 years
10%
8%
2%
7%
3-4 years
6%
6%
5%
6%
5 years
66%
65%
69%
66%
6-10 years
3%
9%
10%
7%
Source: Canadian Association of Accredited Mortgage Professionals, November 2010 Report
The amortization period, on the other hand, is the total length of time it will take to pay off your loan. Most amortization periods are 25 years, and if your down payment is less than 20 percent, this is the longest amortization period currently offered. The longer the amortization, the lower your monthly payment because you'll be paying the loan off over a greater period of time. The flip-side of course is that you'll end up paying more total interest over the life of the loan.
How does the payment schedule work on a mortgage?
In the past, mortgage payments were only made once a month, but this tradition is rapidly changing. Modern mortgages allow you to pay more frequently – you can choose a variety of different payment options, including semi-monthly or even weekly. By making payments more frequently, you'll pay your mortgage down quicker and save on interest.
You'll save the most if you choose accelerated payments. With an accelerated bi-weekly payment, for example, you'll pay one-half of your monthly payment every two weeks, rather than two times per month. The result is that you end up making 26 payments per year instead of 24, which yields significant savings over time.
The chart below breaks down the interest savings you would receive using different payment schedules on a mortgage of $300,000 at 5% interest with a 25 year amortization:
| | | | | |
| --- | --- | --- | --- | --- |
| Payment frequency | Payment | Number of payments per year | Total interest you pay | Interest saved |
| Monthly (one payment per month) | $1,744.82 | 12 | $223,443.02 | $0.00 |
| Semi-monthly ( half your monthly payment, twice each month) | $872.41 | 24 | $222,381.43 | $1,061.59 |
| Bi-weekly (you make a payment every two weeks) | $805.30 | 26 | $220,571.04 | $2,871.98 |
| Rapid bi-weekly (half your monthly payment, every two weeks) | $872.41 | 26 | $185,882.99 | $37,560.03 |
| Weekly (You make a payment every week) | $402.65 | 52 | $220,088.08 | $3,354.94 |
| Rapid Weekly | $436.21 | 52 | $185,471.03 | $37,971.99 |
Based on a mortgage of 300,000 at 5% (APR) interest on a fixed 5-year term, with a 25-year amortization.

Like Ratespy and ratehub, compares hundreds of mortgage rates to find you best mortgage rate
10 great reasons to use a mortgage broker
A mortgage can be a powerful but complicated financial product. As a result, more homeowners are turning to mortgage brokers to help them better understand their options. Mortgage brokers are well positioned to provide the answers and help you get the right mortgage products. In fact, more than a quarter of all Canadian mortgages are now arranged through a mortgage broker.
Here's why.
1. More choice
Mortgage brokers have access to a large network of lenders and as a result their clients have the best choice of rates and products. With a large network of major lenders to choose from, mortgage brokers can source your ideal mortgage options from banks, credit unions, non-traditional lenders and more.
2. Independent and objective.
Mortgage brokers do not work for a specific lender. They work for you and can make an objective and impartial recommendation on financing solutions through many lenders. A mortgage broker is a trusted advisor who provides unbiased advice on your financial options.
3. Access to the best rates.
Getting a lower rate can save you thousands of dollars over the life of your mortgage. Mortgage brokers have many lenders vying for their business and as a result you are more likely to receive a lower rate. A recent Bank of Canada report stated that "Over the full sample the average impact of a mortgage broker is to reduce rates by 17.5 basis points." That's $1,670 of interest savings on a typical $200,000 mortgage over five years. The link below is a quick summary on how to get the best mortgage rates and it speaks to why you need to use the services of a Mortgage Broker.
http://www.canadianmortgagetrends.com/canadian_mortgage_trends/2011/02/getting-the-best-mortgage-rate.html
4. We can negotiate for you.
Mortgage brokers act in your best interest and do all the negotiating to secure competitive rates and terms that fit your situation.
5. Rate promotions.
Your mortgage broker has access to lenders that offer many types of promotions and sales that may be of interest to you. For example – some lenders have special rate promotions for clients that are able to close a mortgage in a shorter time frame than normal. These promotions are called quick close offers and generally offered at discounted rates.
6. Experts in our field.
Mortgage brokers are specialists providing expert advice and guidance on mortgage products, interest rates and current housing market conditions. Their knowledge is derived from selling only mortgage and mortgage related products.
7. One stop shopping.
Shopping at several banks can be frustrating, inefficient and extremely time consuming. Your mortgage broker can show you every lenders product offering with just one visit.
8. Preserve your credit rating.
Rate-shopping on your own can actually be hazardous to your credit rating. Every time a lender checks your credit, the credit bureaus take notice. Too many inquiries and your credit rating can weaken, possibly affecting the rate and terms of your mortgage. Your mortgage broker does one inquiry only, regardless how many lenders you're looking at.
9. Personal attention.
Mortgage brokers are able to work one-on-one with each individual client, evaluate their specific needs and find a lender that suits them personally. You will ultimately receive a mortgage plan that is customized for you and meets your unique requirements.
10. A free service
The services of a mortgage broker are at no cost to you. In general, the winning lender pays compensation to your mortgage broker for the services and solution provided.
Canadian Mortgage Lender is a Mortgage Broker Company
Many Canadians have successful small business ventures and would not trade the lifestyle for anything in the world. However, many begin to question their lifestyle and business choices when they first attempt to obtain financing for their home, or even something as simple as a new credit card or vehicle. The nature of self-employment income can sometimes leave the self-employed looking like poor credit risks, even though they may actually have a more stable source of income than those who are working 9 to 5 for an employer.
Thankfully, Canadian mortgage lenders are starting to understand the importance of self-employment in our culture, and are making great mortgage programs available to the self-employed to finance their primary residence and even their vacation homes.
Licensed mortgage professionals are experts at assisting self-employed individuals with getting a mortgage, and they will ensure you get the best mortgage available through one of Canada's largest lenders.
Obtaining a mortgage if you're self employed has never been easier, and you will be excited to learn that the mortgage products available today are structured to help you succeed in your business and your personal life.

Dominion Lending Centres
Calculators
Savings Goal

Determine how much you will need to set aside in order to achieve your financial goal

Savings Calculator

How much will your monthly savings accumulate to over a period of time?

Mortgage Affordability

How much of a mortgage can you qualify for? Please enter the maximum monthly mortgage payment you can afford and let the calculator do the rest.

Monthly Mortgage Payment

Calculate your monthly mortgage payments and view an amortization schedule. Find out how much total interest and total principal you will pay at the end of you mortgage.

Mortgage Prepayment Charge and Mortgage Privilege Payment Calculator

To find out an estimated penalty cost if you are paying off your mortgage before the maturity date; or, the potential savings from accelerating mortgage payment frequency, making lump sum payments or increasing your mortgage payments.

Term Deposit Comparison

Find out the ICICI Bank Canada Term Deposit Advantage over the other Banks.
ICIC Bank Canada Mortgage Page
Fixed or Variable Rate Mortgage: What's the difference? What's better?
One of the most common questions mortgage shoppers have when they start their mortgage search is…"should I go with either a fixed or variable rate?". So – what's the difference, and what's better?
What is a Fixed Mortgage Rate?
A fixed mortgage rate enables you to "lock in" a predetermined rate for a set period of time (i.e. term). The most popular term is 5 years.
A fixed mortgage rate gives you a bit more comfort and security knowing what your monthly payments will be each month for the duration of your term. This makes financial planning and budgeting a lot easier.
What is a Variable Mortgage Rate?
A variable mortgage rate changes based on the mortgage lender's prime rate. For example: if a lender is advertising a rate of -0.1 and prime is 3%, the rate would be 2.9%. In other words, your mortgage rate increases and decreases along with the prime rate.
Since prime can increase or decrease on a monthly basis – variable rates are not for the faint of heart. Anyone taking on a variable mortgage needs to be able to handle changes to their monthly payments not only financially, but psychologically as well. If the thought of paying an extra $200 in mortgage payments causes you to lose sleep, a variable rate may not be for you.
What is "Prime"?
Prime is the benchmark interest rate used by major banks when pricing for short term loans. Prime is directly influenced by the Bank of Canada's overnight lending rate and can fluctuate on a monthly basis. Changes to both the BOC's overnight lending rate and the prime lending rate are determined by current economic conditions.
Over the last 25 years, the Bank of Canada has:
Made changes to the prime lending rate an average of 6 times each year (directly affecting prime rates)
Each change to the rate has been by either 0.25% or 0.50%
Year over year the prime lending rate has fluctuated by 1.23%
Fixed vs. Variable – Which is "better"?
Fixed vs. Variable Mortgage:
Comparison Table
Fixed versus variable is one of the most important decisions when shopping for a mortgage. Here's a quick summary of the main differences between these types of rates.
| | Fixed Rates | Variable Rates |
| --- | --- | --- |
| Definition | Allow you to lock in a rate for fixed period of time, the term of the mortgage | Fluctuates with the lenders Prime Interest Rate |
| Benefit | You know what your payments will be every month | Typically lower interest rate than with a fixed rate mortgage |
| Risk | You pay a premium for the security you get with a fixed rate in the form of higher interest rates | The fear of rising rates, which would increase your monthly payments |
| Risk Tolerance | Low | High |
| Affects | Government of Canada bond yield for the same term | The Prime rate which is ultimately affected by the Bank of Canada key overnight lending rate |
| Penalty to break contract | Lenders charge the greater of three months' interest or an "interest rate differential" (IRD) which compensates them for interest lost as a result of you breaking your mortgage – this can get expensive | Three months' interest |
| What has worked in the past? | Today's economic environment is pretty unique, given that fixed mortgage rates are at all time lows. Many counties are still struggling to against high debt, increasing unemployment and a damaged housing market. | A study done by Dr. Moshe Milevsky, associate professor of finance, Schulich School of Business, York University,found that based on data from 1950 to 2007, the average Canadian could expect to save interest 90.1% of the time by choosing a variable-rate mortgage instead of a fixed rate. The average savings was $20,630 over 15 years per $100,000 borrowed. |
Should I always go with the lower rate?
The difference between the variable and fixed rates can be quite large, so is it always better to go with the lower rate?
Example
Let's compare a Fixed Rate of 3.99% versus a Variable Rate of 2.05%, both on 5 year terms. The interest difference between the two is 1.94%, so what would the difference in payments be? If we look at an average $250,000 mortgage amortized over 25 years, that turns out be a difference of $249.03/month or $2,988.36/year!
Comparing a fixed rate to a variable rate is really like comparing apples to oranges. Security has a price (as does everything!), meaning that you're always going to pay a premium for the security of having a fixed mortgage rate. If having steady payments is important to you, think of it as buying a bit of insurance.
So…which is "better"?
A few studies have been done in the past trying to figure out which option saves you the most money. The largest study was done by Dr. Moshe Milevsky, Associate Professor of Finance at York University's Schulich School of Business, using data from 1950 to 2007 (keep in mind that this also means that 10% of the time mortgage holders would have saved money by choosing a fixed rate mortgage).
90.1% would Save Money with Variable Rate
The average Canadian would save 90.1% of the time by choosing a variable-rate mortgage instead of a fixed.
Average Savings was $20,630
Over 15 years per $100,000 borrowed.
The Gist? Security has a Price…Most of the Time
Variable rate mortgages have typically been a better choice for Canadians over the last 25 years and over the long run, homeowners can end up paying extra for a fixed rate – but this isn't always the case.
The spread between fixed and variable rates can sometimes narrow, and when it does consumers find it increasingly difficult to gamble on a variable rate. Consumers experienced this at the beginning of 2012 which marked a time when major banks and other lenders were pricing mid-term mortgage rates (3 to 5 year fixed) below prime!
What's "better" in the end is a combination of your personal tolerance, and the current conditions in the mortgage market. If you're unsure on which would work better for you, it's best to talk to a mortgage expert who can help you determine which product will best suit your current needs.



Rate spy like rate hub compares mortgage rates in canada to get you the best mortgage rate available:


click to go directly to site!
Rate hub - Get the best rate available for your first or next mortgage:


click to go directly to site!



Listings of the top mortgage brokers in canada for the last year, the top 5 contributed 20% of the mortgage volume


TOP 75 BROKERS
Rank
Name
Company
City / Town
Funded Volume (S)
Email

1

Collin Bruce

Dominion Lending Centres Mortgage Mentors

Edmonton, Alta.

258,615,820

cbruce@dominionlending.ca

2

Dave Butler

Verico Butler Mortgage Inc.

Mississauga / Hamilton, Ont.

201,973,043

dave.butler@butlermortgages.com

3

Harman Arora

Dominion Lending Centres House

Calgary, Alta.

126,000,000

harora@dominionlending.ca

4

Christine Xu

Mortgage Architects

Markham, Ont.

120,034,969

cxu@moneybroker.ca

5

Michael Noik

Dominion Lending Centres Centura Finance

Montreal, Que.

112,400,000

michael.noik@centurafinance.com

6

Irina Antipova

Axiom Assured Mortgage Services

Toronto, Ont.

102,196,597

antipova@antipovairina.com

7

Scott Travelbea

Dominion Lending Centres & Travelbea Associates

Victoria, B.C.

99,393,338

scott@mortgagevictoria.com

8

Christopher Bisson

The Mortgage Centre Complementary Real Estate
Services Inc.

Guelph, Ont.

96,448,244

bisson.c@mortgagecentre.com

9

Mark Goode

Mortgage Man Dominion Lending Centres

Orillia, Ont.

82,549,712

mark@markgoode.ca

10

Angela Calla

Dominion Lending Centres Angela Calla Mortgage Team

Port Coquitlam, B.C.

81,732,056

acalla@dominionlending.ca

11

Viktor Schaefer

Verico Onelink Mortgage & Financial

Steinbach, Man

78,277,110

save@vsmortgage.ca

12

Susie Inglis

Dominion Lending Centres Mortgage Evolution

North Vancouver, B.C.

76,211,831

susie@mortgageevolution.ca

13

Nicholas L'Ecuyer

Verico The Mortgage Wellness Group

Barrie, Ont.

72,678,321

nlecuyer@mortgagewellness.ca

14

Win Lui

Verico Clear Trust Mortgages

Vancouver, B.C.

72,673,881

win.lui@cleartrust.ca

15

Skye McLean

Mortgage Architects Atlantic (HS) Financial

Calgary, Alta.

70,445,399

mtg@skyemclean.com

16

Dustan Woodhouse

Dominion Lending Centres Canadian Mortgage Experts

Coquitlam, B.C.

70,267,574

dustan@ourmortgageexpert.com

17

Steven Brouwer

Dominion Lending Centres Drake Entrust Mortgage Services

Chilliwack, B.C.

64,534,256

steve@entrustmortgage.ca

18

Jordan D'Haese

Jayman Financial

Calgary, Alta.

64,482,396

jdhaese@jayman.com

19

Terry Kilakos

Verico North East Mortgages

Montreal, Que.

63,432,457

skilakos@northeastmortgages.com

20

Shawn Allen

Matrix Mortgage Global

Toronto, Ont.

62,000,000

sallen@vmmb.net

21

Jordi Browne

Verico By Referral Mortgage Corp

Chilliwack, B.C.

59,399,225

jordib@brmc.ca

22

Debbie Belair

Dominion Lending Centres Smart Debt

Ottawa, Ont.

59,243,000

debbie@belairmortgagegroup.com

23

Andre L'Ecuyer

Neighbourhood Dominion Lending Centres

Petawawa, Ont.

58,765,649

andre@ndlc.ca

24

James Loewen

RMAI Loewen Group Mortgages

Burlington, Ont.

56,487,343

james@loewengroup.ca

25

Chris Landry

Verico Paragon Mortgage Group

Vancouver, B.C.

56,111,824

chris.landry@shaw.ca

26

Nick Kaaki

Dominion Lending Centres The Mortgage Source

Ottawa, Ont.

54,068,075

nick@mortgageking.ca

27

Todd Payzant

Dominion Lending Centres Neighbourhood

Sudbury, Ont.

53,987,768

toddp@ndlc.ca

28

Deborah White

Dominion Lending Centres White House Mortgages

Vernon, B.C.

53,609,317

deb.w@telus.net

29

Greg Martel

Dominion Lending Centres Zilla Mortgage Corp.

Victoria, B.C.

53,079,415

greg@zillamortgage.com

30

Ling Lem

Jayman Financial

Calgary, Alta.

52,787,304

llem@jayman.com

31

David Griffin

Dominion Lending Centres Griffin Financial Group

Peterborough, Ont.

52,113,395

dgriffin@dominionlending.ca

32

Enza Venuto

Centum StreetwiseMortgages.com

Vaughan, Ont.

52,000,000

enza_venuto@centum.ca

33

Bernadette P.
Laxamana

Verico Xeva Mortgage LLP

Burnaby, B.C.

51,702,029

blaxamana@xeva.ca

34

Narish Maharaj

Dominion Lending Centres Mortgage Mentors

Edmonton, Alta.

51,210,843

narish@dominionmortgagepros.ca

35

John Panagakos

Dominion Lending Centres Home Financial Inc.

Toronto, Ont.

51,000,000

john@mortgagelive.ca

36

Lisa Manwaring

Meridian Southwest Mortgage

Delta, B.C.

49,000,000

lisa@southwestmortgage.ca

37

Max Omar

Dominion Lending Centres Capital Region

Edmonton, Alta.

47,294,256

Maxomarmortgage@gmail.com

38

Tammy Pope

Jayman Financial

Edmonton, Alta.

47,093,778

tpope@jayman.com

39

Adam Bazuk

Dominion Lending Centres YBM Group Ltd.

Thornton, Ont.

46,369,985

abazuk@dominionlending.ca

40

Janet MacDonald

Verico The Mortgage Professionals

Kingston, Ont.

46,154,758

janet@mtgprof.com

41

Joseph Park

Verico JP Mortgage Services

Toronto, Ont.

45,000,000

jp@jpmtg.com

42

Ron Lefebvre

Invis Pure Mortgage

Edmonton, Alta.

44,585,773

ron@puremortgage.ca

43

Jeff Attwooll

Verico K-W Mortgage Inc.

Cambridge, Ont.

44,137,751

jeff@jeffattwooll.ca

44

Clinton Wilkins

CENTUM Home Lenders Ltd.

Dartmouth, N.S.

43,810,825

clinton@teamclinton.ca

45

Mackenzie Gartside

VERICO Select

Courtenay, B.C.

43,122,995

mgartside@comoxmortgages.com

46

Sabeena Bubber

Verico Xeva Mortgage

West Vancouver, B.C.

43,083,280

sabeena@xeva.ca

47

Morris Briglio

Verico The Mortgage Advantage

North Vancouver, B.C.

43,066,700

morris@themortgageadvantage.ca

48

Sundeep Saggu

Verico The Mortgage Wizards

Toronto, Ont.

42,181,141

sundeep.saggu@verico.ca

49

Adil Mawji

Invis

Calgary, Alta.

41,826,101

adilmawji@invis.ca

50

Yves Cormier

Verico Cormier & Cormier Consulting

Edmundston, N.B.

41,708,867

yves@cormiercormier.ca

51

Jody Henry

Dominion Lending Centres Arrowsmith

Qualicum Beach, B.C.

41,322,374

jhenry@dominionlending.ca

52

Gert Martens

Dominion Lending Centres HT Mortgage Group

Grande Prairie, Alta.

40,896,633

gmartens@dominionlending.ca

53

Luisa Hough

Verico Xeva Mortgage

Surrey, B.C.

40,580,689

lhough@xeva.ca

54

Charlene Elliott

Dominion Lending Centres Mortgage Mentors

Fort McMurray, Alta.

40,113,774

charlene.elliott@me.com

55

Karen Garrett

Dominion Lending Centres Sea to Sky Mortgages

Whistler, B.C.

39,971,500

karen@seatoskymortgages.com

56

Sarah Davison

Mortgage Intelligence

Grande Prairie, Alta.

39,028,682

mymortgage@telus.net

57

Kent Bittner

Dominion Lending Centres Bittner Mortgages

Regina, Sask.

39,021,000

kent@bittnermortgages.com

58

Scott H. Bentley

Verico Premiere Mortgage Centre

Halifax, N.S.

39,015,917

scott.bentley@premieremortgage.ca

59

Jason Georgopoulos

Dominion Lending Centres Estate Mortgages Inc.

Toronto, Ont.

39,000,000

jasong@dominionlending.ca

60

Sharnjit Singh Gill

Verico Superior Mortgage Inc

Surrey, B.C.

38,319,195

sharnjitgill@shaw.ca

61

Denny Segal

Dominion Lending Centres Origin Home Financial Partners

Vancouver, B.C.

38,000,000

denny@originmortgages.ca

62

Dave McNabb

Dominion Lending Centres Regional Mortgage Group

Red Deer, Alta.

37,109,822

damcnabb@regionalmortgage.ca

63

Anthony Spadafora

Verico Premiere Mortgage Centre

Burlington, Ont.

36,972,145

anthony@premieremortgage.ca

64

James Harrison

Dominion Lending Centres Mortgage Village

Mississauga, Ont.

35,270,567

james@mortgages.ca

65 (tie)

Lena Ohanjanians

Verico Ultimate Mortgage and Finance Solutions

Toronto, Ont.

34,757,500

info@mortgagewithlena.com

65 (tie)

Catherine Evel

Dominion Lending Centres Homestead Financial

Waterdown, Ont.

34,757,500

catherine.evel@dominionlending.ca

66

Terry Short

The Mortgage Centre Advantage Financial Services Inc.

St John's, Nfld.

34,410,802

tshort@homemortgagecentre.ca

67

Teague Brinkworth

The Mortgage Centre Dico Holdings Inc./ Mortgage West
Brokers Inc.

Kamloops, B.C.

34,265,303

teague@brinkworth.ca

68

Ryan Joseph

Jayman Financial

Calgary, Alta.

34,127,818

rjoseph@jayman.com

69

Barry Patchett

Dominion Lending Centres Great Lakes

Kitchener/Waterloo, Ont.

34,103,403

bpatchett@dominionlending.ca

70

Liliana Peric

Dominion Lending Centres Capital Region

Edmonton, Alta.

33,710,000

lperic@dominionlending.ca

71

Jean-Guy Turcotte

Dominion Lending Centres Regional Mortgage Group

Red Deer, Alta.

33,442,458

jturcotte@regionalmortgage.ca

72

Pierre J. Blais

Jayman Financial

Edmonton, Alta.

32,940,968

pblais@jayman.com

73

Corey Klassen

Dominion Lending Centres Powerhouse Mortgages

Saskatoon, Sask.

32,895,036

corey.klassen@shaw.ca

74

Ken Lankin

Mortgage Intelligence

Niagara Falls, Ont.

32,780,714

ken.lankin@migroup.ca

75

Denise Devente

Dominion Lending Centres Mortgage Evolution

Vancouver, B.C.

32,581,893

denise@mortgageevoluti
Mortgage Market Share — Top 10 Lenders
---
---
We haven't run a lender market share story in a while, so no better time than the present.
For share data, we like to call on David McVay of McVay and Associates Ltd. He tracks lender performance for a living and is always kind enough to share his stats with us.
That said, and without further ado, here are the top 10 Canadian mortgage lenders by market share, with some related comments…
********
The Big Hitters
| | | | | |
| --- | --- | --- | --- | --- |
| Rank | Lender | Mortgage Book | Market Share* | 12 Mo Chg |
| 1 | RBC | $198.2 billion | 16.96% | -14bps |
| 2 | Scotiabank | $187.4 billion | 16.04% | +265bps |
| 3 | TD Bank | $175.9 billion | 15.05% | +54bps |
| 4 | CIBC | $146.6 billion | 12.55% | -82bps |
| 5 | Desjardins | $86.6 billion | 7.44% | +1bps |
| 6 | BMO | $82.6 billion | 7.07% | +53bps |
| 7 | First National | $50.6 billion | 4.34% | +42bps |
| 8 | National Bank | $34.7 billion | 2.97% | +20bps |
| 9 | HSBC | $18.5 billion | 1.59% | -20bps |
| 10 | Home Trust | $15.9 billion | 1.36% | +2bps |
Quick takes:
The Big 5 banks still hold two out of three Canadian mortgages, a number relatively unchanged since our last mortgage market share report 16 months ago.
248 bps of Scotiabank's massive 265 bps market share gain is thanks to its ING Direct acquisition, McVay says.
HSBC, ING Direct and CIBC all left the broker market, and not coincidentally, they all sit near the bottom in terms of market share performance. CIBC has taken the biggest hit of any bank in the last 12 months, losing 82 bps of share while it tries to replace broker originations with mortgages sold by its own sales force.
BMO lost 275 bps of share from February 2007 through January 2012, thanks largely to its broker market exit. It has never recovered that loss, despite massively undercutting rivals on advertised rates. That said, being a price leader has started to pay off with BMO recouping 53 bps in the last year. Low rates have also gained it more free advertising than most other banks combined. (How many times did we hear about BMO's 2.99% rate sales in the past 4 quarters?) That, of course, says little about its margins. Unfortunately, mortgage profitability is a black box at the banks and hard to analyze. But McVay notes, "Losing 34% of volume is a lot of
revenue (for BMO) to replace." (Note: We also have no way of knowing how much of BMO's recent share gain is due to it reportedly funding some of MCAP's mortgages.)
First National's mortgage book (as seen here) consists of single-family residential mortgages under administration. That includes mortgages owned by other parties, where First National (FNF) is essentially collecting servicing/administration fees.
Broker Market Leaders (Q1 2013)
| | | | |
| --- | --- | --- | --- |
| Rank | Lender | Market Share** | 12 Mo Chg |
| 1 | Scotiabank | 19.5% | +80bps |
| 2 | First National | 13.2% | -140bps |
| 3 | Street Capital | 12.9% | +480bps |
| 4 | MCAP | 9.5% | +320bps |
| 5 | Home Trust | 8.4% | +200bps |
| 6 | TD Canada Trust | 7.4% | 0bps |
| 7 | National Bank | 4.1% | -120bps |
| 8 | Merix Financial | 3.6% | -30bps |
| 9 | ING Direct | 3.5% | +60bps |
| 10 | Equitable Trust | 2.5% | +30bps |
Quick takes:
Broker channel volume, as measured by D+H, dropped 12.5% in Q1 Y/Y
Street Capital has posted massive 12-month growth through the first quarter of 2013. That positioned it just 30 bps behind First National for second place in the broker market. Some of the reasons: On standard mortgages, Street's product features are second to few, its sales force is exceptional at relationship building and Street pays trailers (which some brokers love because they don't have to fight lenders for their clients at renewal).
MCAP has also turned it on in the prior 12 months. Like Street, MCAP picked up brokers stranded by CIBC's wind-down of FirstLine. On top of that, MCAP's pricing has been sharp for status brokers.
Home Trust also racked up significant share gains (200 bps) in Q1. It did that by targeting deals that banks no longer approve due to tighter lending guidelines
---
* Overall Market Sources: Market share figures are estimates based on data from OSFI, the Bank of Canada, and McVay and Associates Ltd.'s proprietary sources. Data is as of April 2013 (there is a lag in lender reporting). McVay and Associates is a source of market intelligence and market share data in retail banking. Founded by David McVay, a 31 year veteran in financial services, McVay and Associates produces two widely-referenced industry reports: The Banking Personal Market Report and The Credit Union Report.

** Broker Market Source: D+H puts out a terrific, non-public report called Lender Insights, which compiles lender market share data in the mortgage broker industry. We receive data from that report via third party sources and have quoted it here. This data is not confirmed, but is believed reliable. Note: These market share figures do not count MorWeb volumes (D+H's smaller competitor) but the data does provide a decent proxy of industry-wide market share.

CLICK HERE TO APPLY FOR A SECOND MORTGAGE, EQUITY LOAN OR REFINANCE






test

Equity Refinance Mortgage Loans Canada
Mortgage Loans House Equity Canada Refinance Loans Homes Real Estate Mortgage Brokers Home equity loans Mortgage rates Mortgage Refinance Second Mortgage First Mortgage BC Mortgage loans Alberta Mortgage Loans Ontario Mortgage Loans Newfoundland Mortgage Loans Pension Mortgage Broker Mortgage Loan Home Loan Mortgage Lender Home Mortgages Home Equity Loan Refinance Home Mortgage Experts Refinance Home Loan Home Improvement Loan Vacation Home Mortgage Mortgage Professionals Property Mortgages
1st & 2nd Mortgages
Your Mortgage Experts
Powered by 4GoodHosting